Lady and the Champs!
Not once, not twice, but three years in a row!
After four consecutive appearances, the Lady Spartans ​defeat the University School Christians, 76-46, in the FHSAA Class 3A Girls State Basketball Championship,practically making it seemingly effortless to defend their state title!  Shorty after the game Coach O tweeted, "  the end of another successful journey, these kids are very deserving, 3-peat, winning is a product of great sacrifice, we did that." All five of the Spartans starting lineup scored in double figures. Finals MVP-Kelsey Marshall- led the way with 20 points, 7 rebounds and 3 assists. Maria Alvarez added 17 points and shot 5 for 7 from three point land. Marsha Edwards played a heck of a game with 12 points and 9 rebounds, just shy of a double-double and Dashaun Jackson along with Channise Lewis each had 11 points, respectively. Miami Country Day becomes the very first team to win 3 straight titles in Dade-County,within the sport of basketball, what an honor! Without barring many changes ,the Spartans are hungry for more next season!
Filed by Dwight Spencer, Lakeland, FL, Courtside, 2/18/16 7:48pm
About the Contributor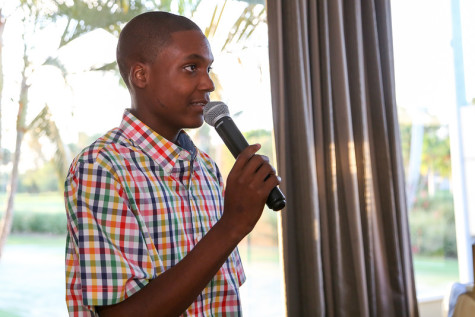 Dwight Spencer, Writer
Dwight Spencer Jr, class of 2016 president, is in his Senior at MCDS. When not fulfilling his duties as a student, Dwight can be seen as the orotund "Voice...