The New Taylor Has Arrived – reputation Review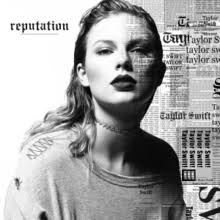 Don't expect to find any hints of the old Taylor Swift on her new album (because she's dead!)
Taylor Swift released her sixth full length album, reputation, on November 10th. From her opening track, "…Ready For It?", Swift establishes an electronic sound that is heard throughout the album, much different from any other project she has done in the past. It seems as if Swift has began to embrace many things that have been said about her, even making a snake a symbol she has used to promote the album by creating snake merchandise, singing into a microphone with a snake on it, and wearing rings and sweaters with snakes on them. She confronts this snake-like characteristic on tracks such as "I Did Something Bad." Swift brings in some superstar backup into the album by having Future and Ed Sheeran featured on the song "End Game." She also brings up her everlasting feud with Kanye West in "Look What You Made Me Do" and "This Is Why We Can't Have Nice Things."
On past albums, Swift has left clues in the album booklet about each song, but on this album she makes the message clear in each song. For example, on "This Is Why We Can't Have Nice Things," Swift brings up her famous phone call between her and Kanye West, singing "Friends don't try to trick you / Get you on the phone and mind-twist you." She delivers a sultry sound in her songs "Delicate" and "Dress" that reveals an aspect of her romantic life that she has never shown before. The album has a much darker sound than anything else she has ever produced. Swift has embodied a new persona and style on this album and even drops her first expletive in her 11 year career.
She ends the album with two softer, romantic tracks that conveys the classic Swift romance that we have heard on past albums. She returns to her roots on the final (and all acoustic) track "New Year's Day" with a catchy piano riff played throughout the song.
At first, I did not know if I would like Taylor Swift as pop artist. Her 2012 album Red brought listeners emotional ballads such as "All Too Well" and fun, energetic sing-alongs such as "We Are Never Ever Getting Back Together." Swift officially flipped the switch from country to pop in 2014 with her Grammy Award winning Album of the Year 1989. Her 80's style synth-pop brought out a new style in Swift, but with the release of reputation, it seems that this album was merely a pit stop on the journey to being a full blown popstar. This album is filled with catchy moments left and right. I personally cannot stop listening to "Don't Blame Me" and "Delicate", and I find myself having a new favorite song daily as each song is better crafted and catchier than the next. Following the release of reputation, my fears of Taylor Swift losing her gravitas when she transitioned to pop quickly were put to rest.
If you, like me, cannot get enough of Taylor by just listening to the album, you can purchase two magazines produced by Swift at Target that feature personal photos, handwritten lyrics, and the album itself. Swift will make reputation available to all streaming services soon, but if you can't wait until then, the album is currently available on iTunes and in stores.