A Peek Into CME
You've heard how good the CME is if you've ever been to one of their assemblies or gigs around town. However, you might not know what it takes to get to sound that good. And having great musicians is just part of the secret. While CME, or the Contemporary Music Ensemble, lost some key members when the senior members graduated last June, this year has allowed new members to come in to carry on the legacy those seniors left. With some big performances coming up in this second semester, such as Vero Beach and the Love-in Festival, they are gearing up and getting to know each other. But sometimes it's still an uphill battle.
One of the biggest things that a band must accomplish is obtaining a good chemistry, according to Mr. Wicker. In December, Wicker felt that "our number one problem right now, is that there is no sense of group at this point in time, even though we have done 7 or 8 performances, it's still more like a bunch of individuals that get together and this is my song, this is her song, this is his song…"
It's understandable that Mr. Wicker might feel this way as he explains the rocky beginning that occured with their trip to Vero last Fall. "It [Bonding] usually happens when we go out of town and our out of town trip this year was in October… and more than half the band couldn't go for various reasons," he told us.  But as the group has time to bond and gel musically, as they have started to,  Wicker has faith that CME can reach its full potential. "Our next trip isn't until February, but I'm hoping after that, we'll gel as a group, because it is very important," he says.
It is also important for a band to have an identity. "We are trying to figure out what our new rhythm is," states Sophomore Andrea Nelcha, a singer. The style is leaning towards music we often hear on the radio.  While CME performances have long included Classic Rock as the mainstay,  this year they've expanded their repertory a little bit more. "People (in the group) like different musicians and we try to do what they like," says Mr. Wicker.  A new aspect this year of CME is that they've managed to incorporate pop as well as different styles.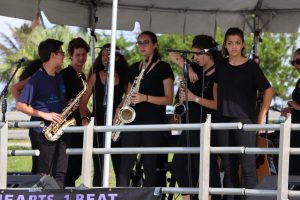 Andrea feels that her role has changed a lot from last year. "I do believe it has gotten bigger, because we kinda have needed to fill that hole…we lost about 10 members last year,"she says.  Others have stepped up their game as well.  "Daniel Gallup has taken more of a leadership role than he has in the past," says Mr. John Wicker, "so he is fulfilling the role as the student leader of the group."  Daniel's position in CME is not one that you can learn in one day, so how was he able to develop into a great leader without previous experience? "In the past couple years I learned from playing alongside them and carried both the musical and leadership lessons that I learned into this year," he explains.
So there you you have it, that is how CME has dealt this year without the talented class of 2017.