A Turbulent Week for Soccer
Hang on for a minute...we're trying to find some more stories you might like.
It has been a turbulent week for the boys varsity soccer team. After a key win against Hillel on Monday, January 29, the guys suffered a tough loss at Wednesday's game against Divine Savior. According to co-captain Khalil Winder, the team "suffered from weak clearances, allowing Divine Savior to score on counter attacks." He thought that the second half the team "played much better, but were not able to score the many chances that [they] had."
Monday's game against Hillel, the Spartan's rival, was exhilarating. After losing their starting goalie earlier in the season,  the whole crowd was stunned by Condrad Krasuski's outstanding performance. He saved a total of thirteen shots on goal, allowing them to stand their ground the entire game. Senior Dre Medici scored an impressive goal in overtime and the team celebrated their well deserved win. The tenacity of the Spartans was evident through every second of the game. This, however, led the Spartans into dangerous waters when Coach Jeff Watson received a red card. Because of this, he was force to miss the Divine Savior game as well as the upcoming regional quarterfinals at Sagemont. According to Khalil Winder, the assistance coaches did an excellent job, specifically "Coach Luis made the necessary changes which helped [them] control the second half."
The upcoming game against Sagemont is key, if they win, they continue onto regional semifinals the following Saturday, but if they lose, their season is over. The regional quarterfinals will be held at Sagemont on Wednesday, February 7th.

About the Photographer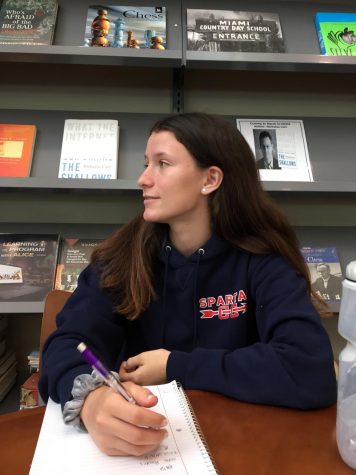 Taisa Strouse, Co-Editor in Chief
Taisa Strouse is Co-Editor in Chief of The Spartacus together with Sofia Paredes.  This is her fourth year on The Spartacus, where she's had various roles,...