Tennis Champs Take District Title
BOYS WIN 21 CONSECUTIVE CHAMPIONSHIPS
April 16 and 17, 2018:  Both Varsity Boys and Girls tennis teams came out victorious during this week's Districts, playing  Divine Savior, Hillel and Hebrew Academy. The boys won their 21st consecutive district championship and the girls, their 6th.
Five of the girls, Allexii Bassette, Gabriella Martinez, Lolita Bell, Danielle Bernstein and Alicia Rodriguez won their singles matches. Partners Allexii and Gabby and Lolita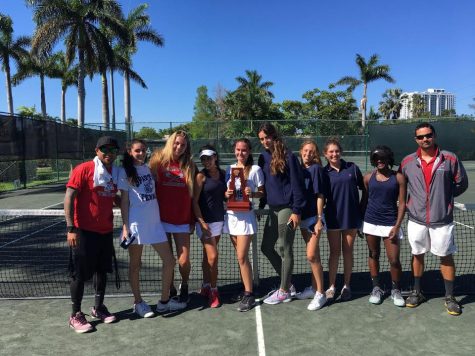 and Danielle also won their doubles matches.  
On the boys team, Louis Siegler, Milan Bass, Evan Meiselman, Morgan Weisberg and Harrison Breslow won singles while doubles parters Louis and Milan and Evan and Morgan won their doubles matches as well.  
Both teams will host the Regional Semi-finals next Tuesday at Arthur Snyder Tennis Center at 3pm.