21 Hearts 1 Beat(les)
TWO PERFORMANCES ONLY! May 24 & 25 at 7pm in CFA!
It's the end of the year and that means it's time for the 21 Hearts One Beat annual Extravaganza.  In two performances, the Contemporary Music Ensemble will hit the stage Thursday and Friday, May 24 and 25, at 7pm. The theater and the band will transport its audiences to Liverpool, England, where the 19 performers will pay tribute to the most popular group of all time, The Beatles.
This group of freshmen, sophomores, juniors and one eighth grader, consists of musicians, singers and songwriters all able to produce one beat and have a love for music. "Like a family, we fight sometimes, but we are a very close, determined group," says Nicole Chirinos, a singer. She believes it's that closeness that allows them to create magic on stage.
The concert has become an event that attracts all ages. Last year's concert lured a huge crowd with a raving Pop theme.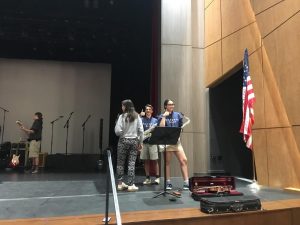 Throughout the year, the group practices once a week, every Friday; although when close to a show, the group rehearses  nearly every day. "Right before the show it's go-time," says singer Amaris Rios. "We all work non stop to put on a show." Musicians say rehearsals can be brutal, at the end, all worth it. "They are my family. We do what we do because love to perform," says Noah Billante, a junior in CME. Inevitably, expect a performance with passion and talent. While the group has been paid to perform at several festivals, next week it is free for anyone to see them perform at the CFA. Be sure not to miss the Extravaganza next Thursday and Friday at 7:00pm.