RENT Brings "Season of Love" to CFA
Empathy, acceptance and compassion will be championed on stage this fall, along with perhaps the most important aspect – love – when Rent, School Edition takes center stage this November.
Cristina Pla-Guzman chose the musical "not just to entertain, [but] to awaken. It means something." The social conflicts influenced Ms.Pla to choose a musical with deep meaning.
The musical is based on the opera Giacomo Puccini's "La Boheme," written about the life of struggling artist friends in Paris in the 1800's. This modern day version takes place in Greenwich Village. With all the complex characters, losses, and sorrow in the musical, Rent is a show that not only allows someone to feel emotional, but also informs society about a difficult period in New York City in the '90s, where people were struggling with AIDS, poverty, low job opportunities and drug abuse.
The cast could not be more thrilled to bring this show to Miami Country Day School and the players have already been rehearsing for endless hours.  
"[From] the second we got our parts, I've been so excited to get started", says Renee Mandel, playing one of the lead roles, Joanne Jefferson.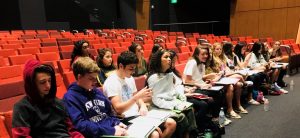 Student Helena Perez, playing several soloist parts, is passionate about the message the plot of Rent conveys. "Telling stories about all different types of people, especially stories of ones that are under represented and under appreciated in our community".
Apart from the already ecstatic cast ready to take on the challenge of these nuanced characters, the other aspects of the show are equally challenging and enticing. The tech for the show will take time to customize since the stage design will include different dimensions of the Bohemia alley. "I'm excited for the two story set" says Alessander Carrillo, playing the role of Tom Collins in Rent.
Another intricate part of the show will be perfecting the makeup look on the lead character Angel."I'm excited to get to design the make up for Angel because we have never had a drag queen character, so it  is really different makeup from anything we've done so far" says the head of makeup, Kaylee Parizo.
Perhaps the hardest part of the show is the choreography which will be led by one of your fellow students, Lulu Yamaguchi. Yamaguchi will compete in the category of choreography for Florida Thespians, but before that she will embark in perhaps the even more challenging task of choreographing a full cast of upper schoolers.
Ms.Pla has high expectations for this production and its impact on the student body. As the musical says with "everything out of love," MCDS Drama presents the school edition of "Rent The Musical" November 7-10 at 7:00 pm in the CFA.
Cast List:
| | |
| --- | --- |
| Mark | Jack Finvarb |
| Roger | Lucas Kohen |
| Benny | Mikey Port |
| Angel | Camryn Davis |
| Tom Collins | Sasha Carrillo |
| Mimi | Charlie Leoni |
| Joanne | Renee Mandel |
| Maureen | Amaris Rios |
| Mrs.Cohen | Kaylee Parizo |
| Mrs.Jefferson | Johanna DeGori |
| Mr.Jefferson | Nicki Altman |
| Alexi Darling | Samantha Goldsmith |
| Rodger's Mom | Camille Nooney |
| | |
| --- | --- |
| Mimi's Mom | Paulina Salinas |
| Restaurant Man/Woman Soloist | Helena Perez |
| Seasons of Love Soloist 1 | Gabriela Abramowitz |
| Seasons of Love Soloist 2 | Nina Lardi |
| Soloist Life Support: Steve (name change) | Daniela Saffran |
| Soloist Life Support: Paul (name change) | Mildred Waxman |
| Soloist Life Support: Pam | Helena Perez |
| Soloist Life Support: Ali | Gabriela Abramowitz |
| Mr.Grey | Nicki Altman |
| Soloist Vendor | Andrea Nelcha |
| Junkies (dancers/soloists) | Gabriella Marchesani, Helena Perez,  Mildred Waxman, Lulu Yamaguchi, Andrea Nelcha, Joey DeGori, Camille Nooney, Zoey Arnold, Alyssa Parrilla, Samee Goldsmith, Gabriela Abramowitz, Nina Lardi |
| Soloists-Squeegieman | Jacob Hare |
| Soloist- La Vie Part 2 | Mildred Waxman |
| Leap of Faith Backup Singers | Andrea Nelcha, Nina Lardi, Gabriela Abramowitz |
| Homeless People (soloists) | Mildred Waxman, Andrea Nelcha, Nina Lardi, Helena Perez, Kaylee Parizo, Gabriela Abromawitz |
| Homeless Singers (christmas bells) | Gabriella Marchesani, Alyssa Parrilla, Samantha Goldsmith, Johanna DeGori, Jacob Hare, Nicki Altman, Lulu Yamaguchi, Camille Nooney, Paulina Salinas |
| I'll cover you reprise soloist | Andrea Nelcha |
| Seasons of Love B Group 1 | Andrea Nelcha, Kaylee Parizo, Daniela Saffran, Paulina Salinas, Zoey Arnold, Alyssa Parrilla, Mildred Waxman |
| Bohemians | All cast |
| Seasons of Love Singers | All cast |