First Senior Signings of the Year
Nationally Ranked Athletes Among Them!
This morning was filled with balloons, handshakes, hats and boisterous cheers as Koi Love, Maria Alvarez and Connor Goodman signed their letters committing them to college teams next year. As they proudly sat at individual tables at the gym, surrounded by family and coaches, Assistant Athletic Director Anthony Haderer regaled the success of all three of the student-athletes.
Sporting a Vanderbilt University hat and jacket was basketball player Koi Love. She signed to Vanderbilt University after coming to Miami Country Day only last year. Koi averaged 19 points, 12 rebounds and 3 blocked shots per game in the 2017-2018 school year. She played a major part in the team's state victory last year and was selected first-team All-County. She was also chosen by the Miami Herald as "Player of the Year" in Class 2A to 5A Basketball.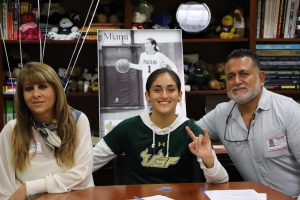 Sitting under gold balloons that spelled out USF, Maria Alvarez, now considered a veteran on the women's basketball team after playing for six years, has committed to the University of South Florida starting in the 2019-2020 school year. Her credits include being selected first team all-county by the Miami Herald for the past three seasons, has five state championship rings, two national championship rings and played for the Colombian national team this summer. She has scored over 300 three pointers at MCDS during her career here.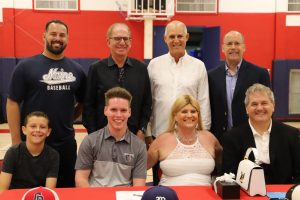 Connor Goodman beamed as he signed to the University of Maine for baseball. There were three caps displayed on his table. One was the MCDS Baseball team's signature hat;  one with a C plastered across it, for his non-profit organization and one with an M for the University of Maine. Goodman has the ability to play high level ball at third base, shortstop, second base and pitching. He has a career .345 batting average, with 88 hits, 76 runs scored and has stolen 38 bases in 41 attempts in his time on the men's varsity baseball team.  
It was a proud morning for the MCDS community and especially the families and coaches of the three athletes. Athletic Director Chuck Sennett ended the ceremony by expressing his confidence that there will definitely be more signings this year based on the athletic success of this year's seniors.