Spring Sports Are Here! Tryouts Begin Next Week
As winter sports are nearing the playoff season, spring sports teams are beginning to meet and prepare for the upcoming season. Girls lacrosse will make its debut this season after years of questioning its presence at MCDS. Tennis, softball, baseball, water polo and boys lacrosse will all return in 2019.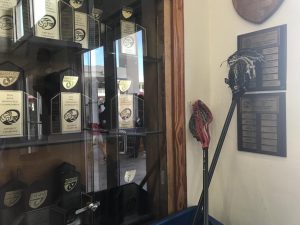 After some speculation to the contrary among the student body, baseball and softball WILL return this season. Both will begin tryouts on Monday, January 28. The boys will be led by Mr. Chuck Sennett and the girls by Mr. Chris Antonopoulos.
The tennis team, led by Coach Alan Murray and Coach Val Banada, will start tryouts on  Tuesday, January 22. The team had a successful season last year. The boys team won both districts and regionals, advancing all the way to state finals. The girls team won districts as well. There will be a meeting for all interested on Wednesday, January 16th, at 1:15pm in the gym classroom.
Girls and Boys Varsity Water Polo will begin on Tuesday, January 22. They are coached by Ms. Stephanie Ragheb and Mr. Alain Guillen. 
Both girls and boys lacrosse will practice this year. The boys team will have a new coach this season, Mr. Joseph Conner. According to the Miami Country Day School Athletics page, he has coached at Montgomery College, Gettysburg College, Rockville High School (MD), and Urbana High School (MD).  He has led 3 teams to the state finals and has earned the title "Coach of the Year" five times. Tryouts for boys lacrosse will begin on Monday, January 28.
The girls will be led by coach Jason Pelletier. You can find more out about coach and the formation of the team here. Tryouts begin on Monday, January 28.