On to Finals for Lady Spartans
The girl's basketball team beat the PK Yonge Developmental Research School from Gainesville with a score of 81-50 in the 4A state semi-final game today, February 27. The team was dominant the whole time, already winning 51-24 at halftime. Upper school students and faculty gathered in the SAC to watch the girls sweep PK Yonge in the first three-quarters of the game today. Mr. Ball excitedly announced the victory at the end of the 9-11th grade assembly to swells of cheers and applause. The victory was expected by many but excitement levels are still high on the MCDS campus today.
The girl's team is currently ranked as #2 in the country on maxpreps.com right behind Archbishop Mitty from San Jose. They are ranked #1 in Florida.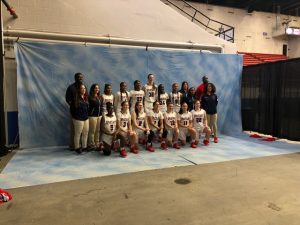 This state tournament marks University of South Florida-committed Maria Alvarez's sixth win. It will be the third for Koi Love, who is committed to Vanderbilt University and the team's seventh time at the state finals.
The game will be tomorrow, February 28, at 2:00 pm. They will play either Carrollwood Day or SLAM Sports Leadership and Management (UPDATED: Carrollwood Day). If you aren't going to the game, you can keep updated on @mcdladyspartans on Instagram and Twitter. The game will also be playing in the SAC and CFA at 2:00 pm today.