Tunde's Team Trumps All
More than the Game for a Winning Team
After an arduous fight at their semifinal state game, the Girls Varsity Soccer Team strode toward the bleachers packed with proud fans knowing they were not the same team who took to the field in October of 2018. With 14 wins, 6 loses and 2 ties, by all accounts, there had been a revolutionary transformation that had altered this team. But the big question remains: how did this happen?
From last year to this year, the team not only lost their head coach, who had been coaching for many years and had decided to retire, but also many valuable senior players. Mary Hanson, a 10th grade player on the team, said "last year the seniors were a really big presence on the team. And since they left, it made me feel uncertain coming into this season." This ultimately led to the panic of some players on the team. Ebba Larnholt, a sophomore and midfielder on the team, started to question herself and alter her outlook on the season ahead. "I dropped my motivation completely…I thought to myself: What's going on?"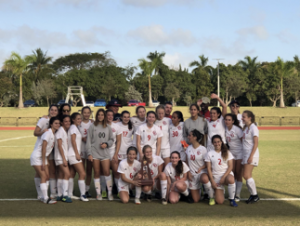 According to team veteran Aly Rodriguez, she felt  "really nervous because we lost a lot of players and we lost our coach so I didn't really think the season was going to go too well." Then, on the first day of practice, the team was told that their newly hired head coach who was to replace their retired coach would no longer be coaching them. However, coaching staff aside, there were still more issues at play.
Socially, the team had been disconnected in past years. One of the main problems seemed to be the difference in ages between players. According to assistant coach Josephine Frigerio, otherwise known as Coach Jojo, she noticed that even though the coaches attempted to bring the players together, there was a gap and they were powerless to fix. "We did try to work together, last year…[but] the seniors were kind of on their side and then we had the rest." This obstacle could have caused irreparable damage. With an age gap between the seniors and younger players, discord and disharmony arose.  Coach Sennett, Head of Athletics, noticed too and said "that resistance is going to break the team at some point."
However, once current head coach Abiodun Adeyemi (also known as Coach Tunde) arrived, the team started to regain their confidence. There was something about Coach Tunde that made the players calm down and the team come together. Coach Sennett pinpointed what this was: the team "respected him [Tunde]." The moment Tunde had talked to the team, they felt as though Tunde validated the goals they once had set from the previous season. When Ebba met Tunde, she realized everything would be okay. "We got the new coach and he […] talked to us about […] his expectations and […]then from there, we moved forward." This respect towards their new coach essentially drove the team to their success.  
Coach Sennett acknowledged that the team succeeded once they all shared a "common goal." This year's team not only came a long way tactically,  but socially too. Players and coaches realized the social rift had melted under Tunde's authority. Junior Sammie Long, who had felt the separation in previous years, noticed "we all had to learn to work together and during practices being together every single day, we all got really close."In the end, the "team became a team throughout the entire season."
About the Contributor
Mia Batista, Staff Reporter
Where I Was Born:

I was born here in Miami, Florida 

Why I joined The Spartacus:

I joined the Spartacus because after taking Journalism in 10th...