The Best Slime in the World
According to 'Ike Slime Shop Owner
Isa Pinzon is one of the fifty-plus students who has participated in the I.C.E. Initiative at Miami Country Day School since it began. (For those who still don't know, I.C.E. here stands for "Innovation, Creativity and Entrepreneurship" and it is a PK-12 program that supports any of our students who want to take their idea, business or service to the next level.)
A 5th grade student in Daria Cirisano's class, she joined the entrepreneurial program this year in order to get some one-on-one mentoring help and guidance to boost her existing online slime business and increase her sales. In Isa's case, that meant learning how to do some market research to find out what her clients wanted and what some of the obstacles were to increasing her sales. In polling parents, the online innovator discovered that many were hesitant to allow their kids to buy or use slime due to the possibility of stains, skin sensitivities and just plain mess. So she set out to create a product that was non-toxic, staining and mess-free.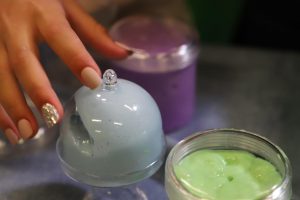 Working with program Director Karen Davis, Isa was able to develop polls, analyze data, create a business "pitch" and produce her first commercial (premiering right here). In addition, she and her mother have created an online site, an etsy store and are planning on launching more products in the coming year. She says her plan is to eventually open up brick and mortar slime shops in Miami and Colombia, where her family is from.
This for sure: Isa Pinzon and her 'Ike Slime Shop are Spartans to Watch!
Students who want to springboard their ideas or teachers who see potential for their students in the business or innovation realm can contact Ms. Davis to get started. There is an initial questionnaire to fill out on our school website's homepage, under Programs, then I.C.E. Initiative.