What The Audience Doesn't See
Behind-the-Scenes for Grease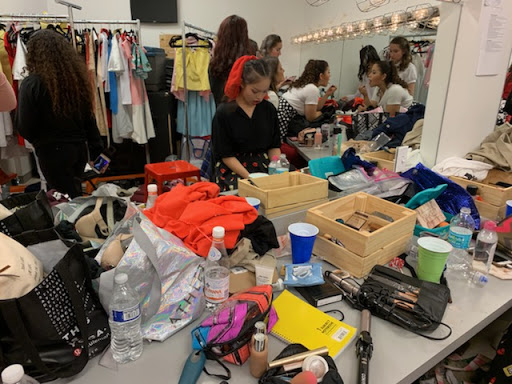 While Sandy Dumbrowski and Danny Zuko sat in greased lighting watching a movie at the drive in, Kate Carlson was in position to change the set and Natalia Socarras was carefully pointing the spotlight onto the stage. "[The crew] is pretty much the backbone," Kate Carlson, a member of the run crew, said "because if we didn't do [our jobs], then the show couldn't run."
Through many of the lengthy rehearsals ranging from two to ten hours, the backstage crew worked tirelessly selecting the costumes, doing the makeup, controlling the spotlights and more. Their work is often overlooked. Without them, the production of the show would not have been possible. Ms. Pla stated that "the crew is an integral part of our productions".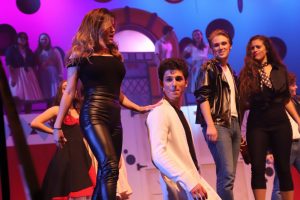 There are many different categories within the crew such as the hair, makeup, run crew, costumes, and lights. Kate Carlson, who eagerly signed up to be a member of the run crew, shared that her job entails having to be attentive and in the stage wings the whole time. She also had to be ready to move around the props depending on the scene. She explained that "you basically have to memorize the whole show." The crew needs to know the cues so they know where to be at a specific time in order to adjust the set in between scenes. Always on top of the job, the run crew never has a break. For example, while the audience was enjoying the complimentary popcorn and snow cones during intermission, the run crew had to organize the sets backstage make sure no one left anything on stage make sure the props are in place.
Sophomore Natalia Socarras did the makeup, the hair, helped designer Nicole Chirinos organize costumes and controlled the spotlight. She had been to many practices because she had so much responsibility. Socarras saw the play "six times" to prepare for opening night. The makeup and hair crew were busiest right before the show when cast members either needed a touch-up or help with their eyeliner. Because Natalia controlled the spotlight during the show, she could only organize the costumes, making it easier for the cast to change in between scenes. However, the costume crew generally helps cast members when they have quick changes.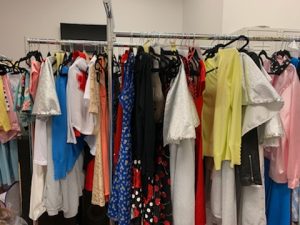 For example, Gabriella Abramowitz who plays Frenchie, had a major costume change when there was one scene to change from the prom attire into her casual outfit and famous pink wig for 'Beauty School Dropout'. Just like run crew, spotlight also has to memorize the show, knowing when to shine the spotlight. "We [crew] have to be on top of it" Kate Carlson explains. "We [crew]have to know all the changes."
Although the backstage crew isn't treated with a bouquet of flowers and applauded for their hard work, they are still a vital part of the production of Grease.