Miami Herald Awards Spartans Big-Time
In a cavernous hall in the Miami Airport Convention Center this morning, the Miami Country Day School won big at the Miami Herald Athletic Awards. Ten Spartans, their families and faculty attended a ceremony during which they were recognized for their athletic achievements this school year. The school won numerous awards in a victorious morning.
MCDS won the Major Sports Award in girls 5A-1A for the second time in history. Coach Ochiel Swaby gained the title of Coach of the Year for both girls basketball 5A-2A and Overall Female Coach. Vanderbilt commit Koi Love won the titles of Player of the Year in girls basketball 5A-2A and 5A-1A Female Player of the Year. Maria Alvarez, who will attend University of South Florida next year, was also selected to first team.
Girls Soccer Coach Abiodun Adeyemi, better-known to many as Tunde,  won Coach of the Year in girls soccer 3A-1A. Sophomore Alyson Rodriguez gained the title of Player of the Year in girls soccer 3A-1A. Isabella Allen, a three-sport athlete, was recognized as a finalist for the Scholar Athlete Award. Allen, Sofia Benenson and Taisa Strouse were also selected to first team for their 2018-2019 soccer season.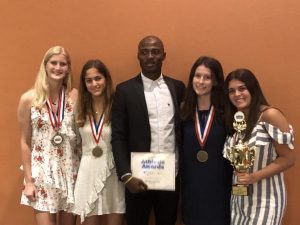 Both Seniors Michael McPherson and Diego Oropeza were recognized this morning as first-team athletes for boys soccer.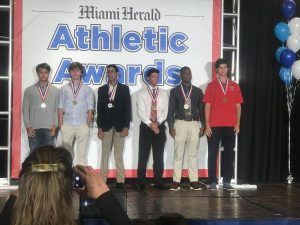 Eighth grader Lauren McGaffic and senior Yale Commit Louis Ziegler were also selected first-team for cross country and tennis, respectively. David Burger was honored for excellence in lacrosse by also being chosen to be a first team athlete.
Numerous Spartan athletes were honored by the Miami Herald this school year by also being honorably mentioned or selected to the second or third team. The Spartacus congratulates all student-athletes for a successful year in sports.