"Normal Is Not In Our Game Plan…"
Last week, Washington Governor Jay Inslee said on CNBC: "Never since World War II have we faced a situation like this. For the next several weeks, normal is not in our game plan."
As we move into Spring Break 2020, we are also moving into a new school and societal reality: a virtual one where our normal is digital and social distancing is the norm. Teachers are learning how to maneuver in the world of cyberspace and we digital natives are using all our skills to work online. Some from our bedrooms; others from the kitchen with siblings and pets all thrown into the mix. A crazy potpourri with some of us enjoying the time, many feeling terrified and still others ambivalent.
This past Wednesday, March 18, faculty and students engaged in a trial run to test our latest distance-learning platforms and protocols. On March 30, students will begin virtual school via Zoom, with the schedule soon to be announced.  What we do know is that the administration has prepared one schedule for "Pre-Holiday" ( i.e.,the days before Passover and Easter) and another for the "Post Holiday" term, however long that may be.
Ms. Mariandl Hufford, President and Head of School, has been keeping the community updated weekly. On Thursday, March 12th she alerted us all that as of the following day, the campus would be closed to all students. Teachers, while they were supposed to come to work on campus the following Monday and Tuesday, ultimately were also told to stay home. Ms. Hufford shared that the Incident Command Team and she continued to monitor the situation and had decided  that the best way to slow down the spread of the disease and protect our whole community was "to extend the closure of our campus to all our faculty and staff, as well as our decision to move into online learning, effective Monday, March 30 and through at least April 13."
In a podcast sent directly to Seniors today, Upper School Director Jill Robert reminded them of their motto: the class of 2020, having perfect vision for the future. In reminding them, she urged them to think whatever thoughts they had and feel whatever emotions were coming up, because that future may seem scary right now. "The reality is," Robert said,  "you will feel these and more emotions and you're going to oscillate back-and-forth between them. Part of learning how to live in the moment is honoring where you are and how you feel. These are unsettling, upsetting times…I feel for you [as Seniors]as does the entire faculty, staff, and administration."
Over the past week, students have been sharing their thoughts with The Spartacus and we will continue to print your words over the coming weeks. Junior Brianna Becerra told us "initially I was incredibly excited for no school, as any stressed junior would be. However, there is nothing I miss more right now than sitting in the SAC with all of my friends, eating delicious SAGE Dining during lunch, and learning Physics from Mr. Rizvi." 
With the amount of pressure on students, trying to balance their social life, extracurricular activities, grades, and college applications all in one, this Spring 'break' seems almost welcome for some. Kitty Simmonds feels "I'm dying inside but actually my inner introvert is rejoicing. Also my mental health really needed this." 
Some students voiced concern about the Spring Break tourists who continued partying on Miami Beach and felt one truly doesn't understand the severity until they experience it themselves. Mapi Onorato, a junior, has an uncle who is ill (but who she has not seen since January). "Having a family member who has coronavirus really brings out the whole truth of the pandemic. It is something that we should really be careful about and take precautions because it's progressively getting worse. I think we should do as we are told but not panic because panic creates chaos and doesn't help at all."
Chiara Bruzzi adds, "I think this situation is very tough for everyone in general. The idea of the unpredictable can be very threatening and stressful for many people and I hope everyone is trying to deal with it in a healthy way. Even though I think that this has caused a lot of disruption in our everyday lives, I still think we can all take from it. This is the time to take that mental break and recharge or to start working on something you have always wanted to. I think it's important to see this as an opportunity rather than a burden."
The Centers for Disease Control and Prevention's worst-case-scenario is that up to 210 million Americans will be infected by December. Under this forecast, 21 million people would need hospitalization and 200,000 to 1.7 million could die. 
The global battle against the Coronavirus (COVID-19) is rising daily. The Miami Country Day community will continue monitoring the Coronavirus as we have since the outbreak initiated in Wuhan, China. In late January, the Coronavirus reached the United States, in which the number of cases all through the country have been growing rapidly. The state of Florida's cases increase by the day with over 300 as of March 19.  
As a last thought, ponder this: Currently, there is a 90-97% survival rate from the coronavirus, depending on where you are. If you were given one hundred Skittles but were told that three to ten of them would potentially kill you, would you risk it? Some would and some would not.
Please stay inside and do your part. Most importantly: do not panic. "With a clear head and some simple tips, you can help reduce your risk, prepare your family and do your part to protect others." – The New York Times
Additional information and updates on the Coronavirus can be found at https://www.miamicountryday.org/covid-19-updates#
About the Writer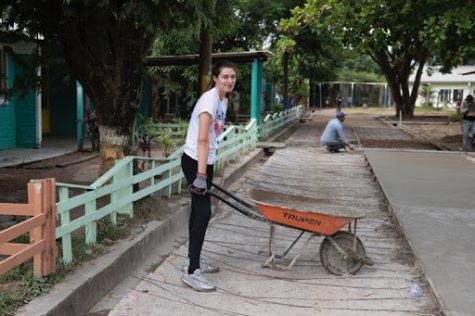 Sasha Vaygensberg, Staff Reporter
Sasha Vaygensberg is a senior at MCDS and she's so excited to return back to The Spartacus this year! Sasha joined The Spartacus last year to pursue...