Raising Standards and School Climate Amid Curveballs and Coronavirus
Mariandl Hufford's First Year
Humble…delightful…engaging…captivating…are all words students have used to describe Head of School Mariandl Hufford. Some teachers fondly remember her grand onstage entrance to the sounds of ABBA. "She practices what she preaches in terms of greeting everybody in the community with a smile and bringing a warmth to all of her interactions with various members of the community," recalls English teacher Samuel Brown. What is evident is that Miami Country Day School's seventh Head of School, appointed this past summer, has certainly made an impact within our community, amid a seemingly endless stream of curveballs thrown her way. 
Following a comprehensive and arduous search process, both the Board of Trustees and Head of School Search Committee unanimously agreed that Ms. Hufford, who at the time worked as an Assistant Head of School at the Agnes Irwin School in Pennsylvania, would be the best possible fit for both the school as a whole in addition to the extended community. When we spoke with her back in October of 2019, it was on the heels of having to face the first of what would turn out to be several crises in her rookie year: a 10-day ordeal that resulted in the resignation of our new Upper School Director.  In a conversation she had with Spartan TV last Fall, she acknowledged that while Jill Robert stepped seamlessly into the role, "we still have a lot of work to do" to heal all the wounds in our community. 
There was no doubt in her mind (or that of this reporter) that she came to Country Day aiming to make a mark in her first year, while simultaneously adjusting to a new position, new city and new lifestyle. To that end, she made clear her agenda right off the bat. At the beginning of the 2019-2020 school year, faculty received the "Head of School Goals" consisting of six objectives that Ms. Hufford set for her first year in our community. Contents of the list include goals: 
To strengthen communications, both internally and externally.

To successfully launch and support strategic planning processes.

To successfully complete MCDS' full-scale re-accreditation work.

To strengthen the MCDS community's work around diversity, equity and inclusion.

To bring a sense of stability to MCDS' campus.

To get to know the community through outreach.
Currently, Ms. Hufford is facing yet another curveball with the global COVID-19 pandemic. This one is unquestionably more complicated than any other matter our community has seen before. She has had to make keen and well-planned decisions while making sure to act quickly enough to ensure the safety of Miami Country Day students and staff.  From first dealing with curriculum changes and challenges regarding remote learning, Ms. Hufford recently made the decision to cancel graduation ceremonies (as reported earlier in this publication) and this week, told us "for certain that we cannot open our campus again for the remainder of the year." 
Despite this difficult period of "sheltering in place" at our homes, Ms. Hufford remains driven to make communication a priority. Students, parents and faculty should ensure that their contact information is up to date on MyCountryDay for receiving campus updates and other relevant information in regards to COVID-19. In an email to parents and faculty on April 2nd, she stressed the importance of updating the community, noting that "It is critical that we be able to share information with you quickly and efficiently." To ensure that staying in touch remains of prime concern, Ms. Hufford reminds us that website and email updates will remain frequent during this unprecedented time. She has also put forth new methods to receive COVID-19 updates through text messages and phone calls.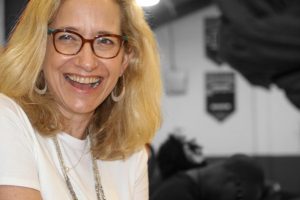 Per usual, Ms. Hufford is determined to stay on course and hasn't been detracted from her main objective: setting out changes she delineated in September, starting with our community's mission statement. She believes a mission statement is the equivalent of "marching orders" and "has to mean something." In our October interview, Ms. Hufford indicated that a mission statement can't just be words on a plaque and "we as a school need to become really clear on what that truly means…for the teachers in this school, the parents, the administrators." She wants to know what that experience is like for every student and raises the following question: "Do students know that they are valued every day for who they are?"
To answer this question, Ms. Hufford has been reflecting on the concept of school-climate  and how it pertains directly to the MCDS community, strongly feeling that "building a strong school climate is good for everybody. There's no downside." On that premise, what is a good school climate and how does a school community represent a positive environment for their students, parents, and faculty? Ms. Hufford, while admitting it's hard to define, believes a good school climate is "one where every student knows that they belong and are valued." A key factor, she believes, is making sure that students are given more opportunities to safely and clearly speak their minds about school-related topics. To that end, she meets weekly with small groups of seniors for lunch in her office, a practice begun by her predecessor Jim Connor, until she has met with every single senior at least once. 
As of April 2020, nearly one year after Ms. Hufford's installment as seventh Head of School, progress has been made toward every objective from the original list. Starting with strengthening communication on campus, Ms. Hufford and her team hired a new Director of Marketing and Communications to plan and oversee communications strategies for both students and faculty. They have been putting out myriad correspondences throughout this trying time in an effort to "bring us together, even when physically distant." Ms. Hufford also had instituted the "Hufford Post" serving as an opportunity for faculty and staff to ask questions and raise concerns which are then addressed at the beginning of every all-school meeting. Students, while on campus, were always invited to stop in and chat with Ms. Hufford with any comment or concern, along with the aforementioned lunches with members of the senior class. 
Other key hires made toward solidifying her goals include Madame Linda Chambers to strengthen our work around diversity, inclusion and equity; Jill Robert, who seamlessly took over as Director of the Upper School, fortifying a sense of stability; and Michelle LaMarre to head Facilities and Campus Operations after the sudden departure of longtime Maintenance head Mike Caban. 
Under the leadership of Ms. Hufford, Miami Country Day School has been actively working alongside Greenwich Leadership Partners, a consulting group strategically targeting leadership and learning skills within schools and nonprofits. On January 15 of this year, Greenwich Leadership Partners kicked off a workshop with the MCDS Board of Trustees and spent three days on campus conducting multiple interviews with select administrators and students. Ms. Hufford's efforts alongside Greenwich Leadership Partners will remain for years to come, and a strategic plan is in the works to successfully create vision for the next five years of our community and school. 
Despite the obstacles Ms. Hufford has faced throughout her first year, she has continued to prove her keen decision-making skills and substantial persistence towards making MCDS a better connected community. Ms. Hufford remains with her head up high and visions directed toward the future for herself and all educators at Miami Country Day School, noting that faculty "helps shape the next generation and helps shape the future" and, thus, needs to work diligently to set a positive example. According to Ms. Hufford, "If we're modeling the crazy behaviors happening out there, we aren't doing a job. How are young people supposed to know how to be? What to strive for and what to prioritize? In this school, we can do things a little bit differently. We can be the place where we learn to talk respectfully amongst differences, the place we know we belong and we know we're valued." Her rationale for change and growth is what sets Mariandl Hufford apart as she continues to build her legacy on campus, and thereafter.
On a more sobering note, on April 20th, in a letter to "my Spartan community," Hufford acknowledged the potential loss of hope and grieving that some might be feeling now, knowing we will not all get to say good-bye to each other or celebrate successes in person. "Grieving the loss of all of this," she empathized with faculty and staff,  "is a perfectly normal reaction. It is one I feel, too. But for the students we love, I am going to ask all of us to do what may feel impossible in this moment: to finish out the year with the same celebratory, enthusiastic energy we would have displayed had we been on campus. I am going to ask us to put our resilience, our pride, and our strength on full display and in ways that bring us together, even when physically distant."
About the Contributor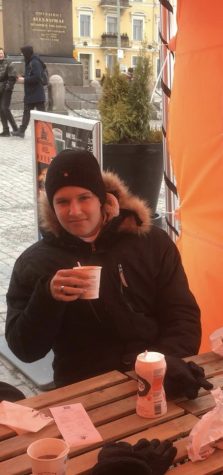 Julian De La Cadena, Staff Writer
As a second year staffer of The Spartacus, Julian has become an active member and reporter on the team. In his free time, Julian enjoys mixing and playing...