Can "Cottagecore" Help Save the World?
Or perhaps just your sanity…
What, you've never heard of cottagecore? Then you're probably not of that nostalgia-like mindset that eschews technology and bustle for fairie-like dreams and beautiful cushiony surroundings. You're probably not a homebody– or you never thought you were — until you had to be homebound for weeks on end. While you may not be an aesthete or romantic, now more than ever, you've probably been incorporating many elements of cottagecore into your lifestyle without even realizing it. 
First and foremost, you are doing what the doctor has ordered and cottagecore demands: staying inside.
Coined sometime in 2018, cottagecore is, at its core, an Internet trend created by teenagers seeking solace from their everyday lives. It is also a lifestyle inspired by everything doctors and nurses right now are advocating and pleading for others to do: remain in your homes. 
Cottagecore is a romanticized lifestyle based on idealized views of pastoral life centered around, fittingly, cottages. Think eternal Sunday mornings filled with idyllic landscapes, something delicious baking in the oven, knitting or painting and you've got the idea. In an article for The New York Times in early March, reporter Isabel Slone (https://www.nytimes.com/2020/03/10/style/cottagecore.html) described cottagecore as "a modern escapist" fantasy for people yearning to embrace a simple life surrounded by rolling meadows, mossy tree stumps, wildflowers and of course, cottages. The trend began gaining traction in January, but now as more and more people are practicing social distancing and finding themselves at home far more often, everyone seems to be embracing that same kind of lifestyle.
If you asked someone one year ago how they would describe the quintessential hero of a hypothetical apocalypse, they would most likely describe someone clad in leather and metal spikes and fortified in a monster truck carrying a myriad of weapons, à la Mad Max. But if you asked that same question today, heroes would be described as attired in much more benign gear: teal scrubs, face masks and latex gloves. The doctors and nurses who are at the frontline of the coronavirus are the real heroes of society. But for those of us who don't happen to have a degree in medicine, the best way to also be heroic in our own everyday way is by staying home.
How rare is it that by staying home, we are considered brave and heroic? Although in theory, it seems like a miracle or a prayer answered, constantly being at home has caused some to become restless. However, many people are taking this time as an opportunity to hone into the activities for which they otherwise would have had no time. 
Everyone from celebrities to next-door neighbors are beginning to master the niches of domestic life championed by cottagecore. Marketing professionals are becoming painters, actors are becoming bakers, investment bankers are becoming knitters and business CEOs are becoming gardeners. 
Not only does cottagecore abide by social distancing mandates but it also quenches humankind's current desire of escapism.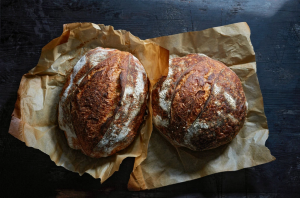 Switch off the perpetually ignited television showing breaking news headline after breaking news headline and enter a world where sunlight dances through tree leaves until it trickles past an open windowpane and the only distraction from meditative painting is the ding! coming from the kitchen, signaling a freshly-baked loaf of bread. How nice does that sound?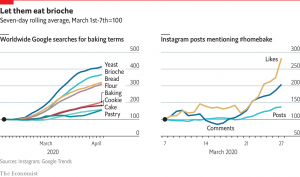 Sales for King Arthur's flour increased roughly 2,000% in March. According to Nielsen data, sugar sales increased by 91%, baking soda by 180% and baking yeast by 410% during April. Not only is it a way to pass the time, but baking can also help to bring structure to a life gone askew, where Thursdays feel like Mondays and weekends don't exist. As contradictory as it sounds, following step-by-step recipes can very well help to regain control over one's life. Not only will a sense of fulfillment and accomplishment flood the kitchen as the warm aroma of pastries fills the air, but there will also be the benefits to reap, or, eat, in this case, in the form of comfort food.
It seems that people have always flocked towards the cottagecore aesthetic without even knowing it. Not only are sales for gardening supplies spiking now, but they also dramatically increased in other times of crisis. According to NPR, George Ball, executive chairman of the Burpee Seed Company, based in Warminster, Penn, also found that the company saw increases in seed sales during "the stock market crash of 1987, the dotcom bubble burst of 2000, and he remembers the two oil crises of the 1970s from his childhood."
"There's not a lot of stuff you can do to make mistakes. I mean, it's just going out in the woods and finding mushrooms or berries or sitting down and reading a book outside," said Phoenix Tweedy, an avid cottagecore enthusiast, for The New York Times. It can also create a sense of community and pie-recipe-sharing-commandery among friends who have been limited to Zoom virtual embraces for weeks.
Whether it be by having a go at the New York Times' recipe for sourdough, pressing flowers from your garden in between the pages curiously heavy textbooks or simply taking a break from watching the news and instead mindlessly scrolling through pictures of wildflower meadows on Pinterest, it seems that everyone should embrace a little cottagecore in their everyday lives. 
(If this article inspired you to take up a life infused with the cottagecore aesthetic, try out this recipe- a personal favorite of mine!)
https://www.dailymail.co.uk/femail/article-7551975/Try-recipe-apple-mapel-walnut-streusel-cake-Germany.html
About the Contributor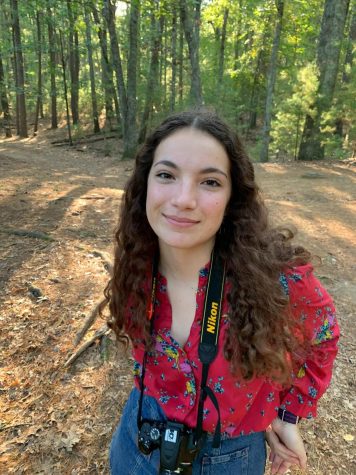 Giulianna Bruce, Editor in Chief
Giulianna Bruce is a senior at MCDS and she's so excited to be this year's Editor-in-Chief of The Spartacus! Giulianna joined three years ago with the...