Cross Fit Athlete and Math Troubleshooter
An ambitious, school-loving athlete and teacher with a mission to help all students battle the perplexities of Math, Mrs. Samantha Stanton is an enthusiastic addition to our community who is ready to help students achieve their best.  
Born and raised in Connecticut, Mrs. Stanton brings with her an aptitude to work with students and a love for athleticism. She attended Pomfret School, a boarding school in northeast Connecticut, where she went on to teach Integrated Math 3 , Engineering, and Honors Precalculus for the past 4 years before moving here. Growing up, Mrs. Stanton was very active and played lots of sports, which mostly revolved around soccer, ice hockey and softball in high school, and then went on to play college ice hockey at Colby College. "A fun fact about me is that I grew up in a gym," Stanton recalls. " My dad was a natural bodybuilder in the 80's and so I literally grew up in a gym.  We owned one from when I was in Kindergarten all the way through my senior year in high school!" She believes that her childhood experiences have inspired her active lifestyle, even joining and competing in CrossFit.
After college, she worked at two Boston schools: The Fay School, a junior boarding school, and The Winsor School, an all-girls independent school. For the past 4 years at Pomfret, Stanton served as the head coach for the girls' varsity ice hockey team and assistant coach for girls' softball. She was also the director of the Health & Wellness programming for Pomfret's Saturday QUEST program, and an advisor to 6-8 young women. 
Drawn to the diverse atmosphere, Mrs. Stanton and her husband decided to move to Miami. "We've always loved the warmth and wanted to be in an international city, so we decided to move here and we absolutely love it!" Stanton told us enthusiastically.
Her philosophy and teaching style of "no student left behind" in Math was sparked by her own education.  She didn't feel "natural" in any subject and learned that hard work is what gets you through. Being an athlete, she drew the analogy that skill, like a muscle, grows and gets better over time the more you train it. Finding value in hard work and finding joy in school is what led her to become a teacher.
"I knew for a long time that I wanted to be a teacher because I wanted to help students find success and enjoy their time in school as much as I did – and still do!" Stanton states. "Math made the most sense to me because I felt like I was best able to empathize with my students and help them (hopefully!) feel good about their math experience."
As a teacher, what Mrs. Stanton thinks sets her apart from others is her drive to give 100% every day, even if the day feels like a 30 or 40% day. 
Outside the classroom and fitness, Stanton enjoys going to the beach, walking and exploring new places. She likes cooking, reading on Audible, listening to podcasts, and spending time with family and friends. When it comes to music, Stanton listens to a wide variety, depending on her mood, but loves country music, classic rock, progressive house music and listening to Top 40. "I love country music because of the storytelling. I love classic rock because of the nostalgia of listening to it with my parents growing up," Stanton responds. "I love progressive house music when I am working out and I love listening to Top 40 music just because it's fun to hear what's new in the world of music!"
Even though she and her husband are loving the climate and new friends, being away from her family is difficult. "My parents inspire me," Stanton looks back. "My mother is the most resilient person I know who overcomes any challenge with grit and grace. My father is the most hard-working person I know who tackles challenges with such a deep determination." As a result, Mrs. Stanton and her husband FaceTime their families and exchange phone calls and texts daily, which they are always excited to do. 
At the end of each day, being greeted by Beau, their 3-year-old labradoodle who loves to play and cuddle is what puts a huge smile on her already cheery face. "One of the best feelings in the world is coming home to him after work and him greeting me at the door with his favorite ball and his tail wagging," Stanton says excitedly. Who wouldn't want to be greeted by a loving dog after a long day?
About the Writer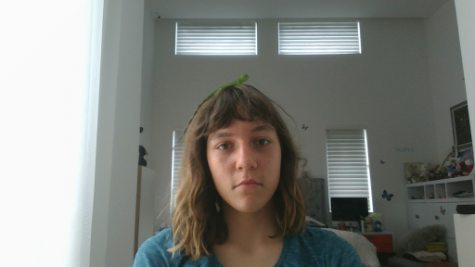 Sofia Vasileva, Staff Reporter
This is Sofia Vasileva's second year as a member of The Spartacus and she is a sophomore of the class of 2023. She hopes to continue discovering new passions...