Vaccine Volunteers: Being Part of History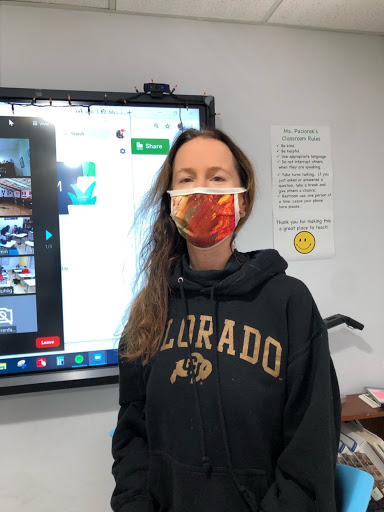 The Coronavirus. It's omnipresent, unavoidable and has significantly altered our way of life. Although it seems like ages ago that students were released from classes and instructed to begin online learning, our society has only had less than a year to truly understand how the virus behaves and spreads between others. Pharmaceutical companies Pfizer and Moderna have led the efforts in the United States, where their respective vaccines were just recently approved for emergency use by the Food and Drug Administration (FDA) and Center for Disease Control and Prevention (CDC). 
Thanks to their rapid scientific efforts and the help of 30,000 testing volunteers, a vaccine has been developed. What you may not know, however, is that Miami Country Day School's very own Upper School math and environmental studies teacher Ms. Nicole Paciorek, math teacher Ms. Gabrielle Schreffler and language arts teacher Mr. Samuel Brown have been part of that cadre of volunteers.  
As a science teacher, Paciorek felt naturally inclined to step up, but more than anything, she was inspired to be a part of groundbreaking research. "Science has saved us numerous times throughout history. With COVID-19, our lives have been so dramatically changed and I, like many others, experienced feelings of hopelessness at times. What could I do? I wanted to help. I wanted to be a part of science… I mean I'm a science teacher!" claimed Paciorek. She is indeed correct; science has repeatedly saved us time and time again. Safe and efficient vaccines, like those combating polio and smallpox, have effectively led to the eradication of such diseases. Realizing this, Paciorek went into the experience knowing she would be a part of history in helping others for years to come.
Uniquely enough, the COVID-19 vaccine is the first of its kind. Normally, standard vaccine trials span over six to seven years on average, but unlike most vaccines which infect individuals with a weakened germ to generate immunity, this new antidote is carried through messenger RNA (mRNA), which directly teaches cells how to make a protein to trigger an immune response. This immune response, fortunately, produces antibodies, which help protect the body from getting infected. Despite only recently being put into place, scientists have been working to perfect this vaccination method for decades. 
Paciorek was involved in the Phase III immunization testing period where participants were infected with either the Moderna-developed COVID-19 vaccine or a placebo drug which took place as a saline solution. On-site doctors and participants injected with either drug were unsure of which they received in this "blind study", encouraging them to maintain their regular routines and live life "as normal". When she heard Moderna was accepting volunteers for their Phase III trial, Paciorek, eager, interested, and a plausible candidate for not having contacted the virus before, filled out the necessary forms in hopes of being chosen to participate. After Moderna set up a trial location at the University of Miami, she learned she had been chosen for the study.
During her first visit, she filled out a series of forms and waivers, received a COVID test to ensure she would be healthy for the research, and lastly, was given the injection of either the placebo solution or Moderna vaccine throughout a three-hour period. She recalled having nervous excitement upon arrival, but the on-site staff's efficiency helped alleviate any concerns she had. 
Encouraged by her colleague, Ms. Gabrielle Schreffler, was also chosen as a participant in the Moderna Vaccine Trial.  Schreffler, like Paciorek, told us she was interested in the study for the scientific significance of the new mRNA technology, but also felt compelled to volunteer as a healthy and able-bodied individual who could help others through her efforts.
Mr. Brown had a slightly different approach and experience. "I signed up for a Johnson & Johnson vaccine trial in early January as a way to potentially receive the vaccine sooner, along with my wife, who was researching the possibility for more vulnerable family members. The first shot took a bit of time, due to paperwork at the Coral Gables location of the research center, but they compensated me for my time. Since then, I have logged my lack of symptoms in an app and been back there once briefly for a checkup. I will return in March for a second shot, at which time I will find out if I received the placebo (and get the real deal, if I haven't already)." 
Regardless of the trial, being a member of a vaccine trial isn't simply a three-hour ordeal. After receiving the injection, Paciorek and Schreffler were asked to conduct a daily log that monitored their health, symptoms, and any potential exposure to the virus. When asked how the system worked, Paciorek equated it to a wellness check that every student is required to complete before coming to school… only her's would monitor her experiences after receiving the injection and came with a financial incentive to ensure she and the other participants remained disciplined and motivated to stay up to date. This cycle of completing the daily log became Paciorek's new reality until she was called in a month later for a second injection.
Soon after the vaccine was approved for emergency usage, the study became "unblinded" and both Paciorek and Schreffler were notified that they had received the placebo saline drug. They both then had the opportunity to get immunized for COVID-19, to which they accepted, but were quick to note that this doesn't change their daily routines. "I still wear a mask, still remain socially distant… this isn't an excuse to go out to parties! I want to be the one who sets the example," said Paciorek. Schreffler additionally wants to model the same behavior, especially as somebody who is thankful to have received the vaccine before most other people.
Are there more steps to be taken as volunteers? Paciorek respectfully scoffed at that question, clarifying that when one is part of a study, they may be inadvertently consenting to a two-year commitment. Even after the initial vaccinations, Moderna is responsible for tracking the participants to see if the vaccine is safe and effective. Volunteers are still responsible for attending visits and need to periodically track their health in their "wellness check" type log. Schreffler recalled committing to a whole new agreement when the study was unblinded to be sure she wanted to continue throughout the following two years, indicating that it was somewhat optional for participants. "I'm on a mission to assure people that these scientists are NOT cutting corners," said Paciorek when asked about the abnormal speed the vaccine was developed. "Scientific process is not rushed whatsoever and is very much still in place." 
There is an "added benefit" to volunteering. Both women are now eligible for receiving the actual vaccine, now that it is publicly available, even though both are well under the Florida 65 year and older age restriction. As Paciorek explained,  "We are now in 'treatment' group and 100% in the study. We still will be followed for two years. Regular blood draws and such. They need to gather data about people for long-term approval. Right now they only have temporary emergency approval. So yes, we have special treatment, but we are still helping further the cause of studying this disease and the strength of these vaccines."
As of January 2021, both the Pfizer and Moderna vaccines are available in the US and over 50 million doses have been distributed thus far. While this is great news, on February 3rd, Dr. Anthony Fauci proclaimed that 70-85% of the United States population needs to be fully vaccinated before the country can begin to return to a sense of normalcy. So far, only 2% of Americans have received both doses of the COVID-19 vaccine, so there is still a long way to go. It's not just the distribution, but reluctance on the part of Americans, for such low rates. Doctors and the media refer to this as "vaccine hesitancy," which is the delay in acceptance or refusal of vaccines, despite available access. Many are reluctant due to the speedy development time of the vaccine, but as previously noted, mRNA vaccinations have been in development for decades now. 
While immunizations are not recommended yet for those under 18, both Pfizer and Moderna are actively conducting research into a vaccine that may protect adolescents between the ages of 12 and 17. They are looking for trial participants.
Being part of a study is a commitment that can help save millions of lives. What they do it again?  "I would do it again, yes," Mr. Brown enthusiastically mused. Both Paciorek and Schreffler, feeling privileged and grateful, recommend that others sign up for future vaccine trials too and to "trust science."  
About the Contributor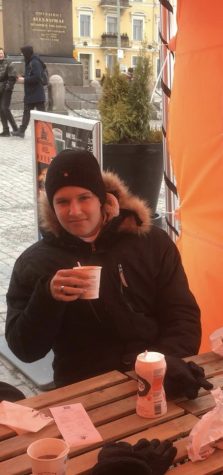 Julian De La Cadena, Staff Writer
As a second year staffer of The Spartacus, Julian has become an active member and reporter on the team. In his free time, Julian enjoys mixing and playing...