Football Game TONIGHT/ Athletic Update 9/19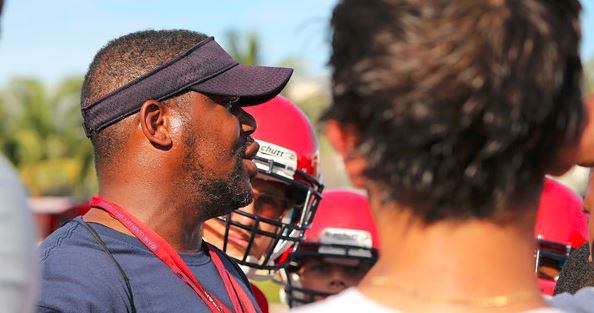 Come on out tonight and support our football team as they take on Ransom Everglades in a 7:30 pm match-up at KFAC. The Spartans look to bounce back, after an upsetting "last play" lost last game.
Food trucks will be on campus from 3-9.
In Thursday's Athletic Events…..The Boys and Girls Cross Country Teams continued to impress at the Dade County Youth Fair Invitational at Larry Penny Thompson Park.The Girls Team finished 8th out of 29 teams.  They were led by Isabella Allen (14th place overall at 21:18), followed by Kitty Simmonds, Klara Meyer, Alexandra Piussan, Lea Ankonina,Sydney Fuentes, and Nicci Sherwood.  The JV Girls finished 5thof 13 teams in the and were led by senior Claudia Seguera, followed by Maria Silva, Sophia Gomez,  Hannah Amoils, and Anastasija Moskvina. The Boys Varsity Cross Country team finished 7th of 35 schools.  They were led by Jacob Strouse, followed Alex Cohen, Julian Schultz, Ryan Finvarb, Evan Mendelson, 6th grader Ryan Mendelson, and Connor Space.   The JV Boysfinished 8th of 14 teams and were led by 6th grader Mack Tracy, followed by Matt Allen, Noah Billante, Eduardo Dana, and Dhillon Murphy.  The Girls Varsity Volleyball Team (5-5) beat Sagemont 25-18. 25-16, 25-17.  Brooke Pumo led the way with 8 kills, 2 aces, and 6 digs, Taylor Mashburn and Sidney Jones each had 8 kills and 2 blocks, Sasha Jenkins St. Prix had 13 assists, 2 aces, and 6 digs, and Adriana Vivas added 15 digs and 14 serves received.  The Middle School (Varsity) Volleyball Team (9-3) beat Sagemont 25-7, 25-15.  Alexa Altman led the way with 13 service points, 5 aces, and 3 assists, Yakira Wardlaw had 8 service points, 7 aces, and 3 digs, and catherina Giacian added 5 service points, 3 aces, and 3 digs.  The Junior Varsity Volleyball Team (4-6) lost to Sagemont 25-22, 14-25, 5-15.  Nyasia John had 4 kills and 1 block, Bridgette Lewin added 3 aces, 2 kills, and 3 digs, and Chiara Settineri had 5 assists and 5 digs.
In Today's Action….….the Girls and Boys Swim Teams host Ransom Everglades at 4pm,Spartan Volleyball games begin at 3:30pm, the Junior Varsity Volleyball Teamparticipates in the Florida Christian Invitational at 3:30pm/6pm, the Middle School Football Team hosts Ransom Everglades at 4pm (Live-streamed Event), and the Varsity Football Team hosts Ransom Everglades at 7:30pm (Live-streamed Event).  In addition, we will have Food Trucks on campus from 3-9pm, so please come out and support our Spartans.
In Saturday's Action…..The Junior Varsity Volleyball Team participates in the Florida Christian Tournament.
MCDS Athletic Facebook page – We will be updating our MCDS Athletic Facebook page each day throughout the year.  It will include daily updates, current pictures, and information about special events.  If you are a "Facebook user" please like us at "MCDS Athletics."
Open i Studio – Please check-out all of our Fall athletic photos atwww.miamicountryday.org –
go to athletics, then athletic photos, or go directly to Open i Studio athttp://www.openistudio.com.
My Spartan Locker – Please visit our Spartan (on-line) store. There are a variety of
products available, and we will continually be adding new items throughout the year.  Our Athletic Department will receive 12% commission on all sales.  Our store, which is conveniently located on our athletic webpage or at http://www.mylocker.net/florida/miami/miami-country-day
school/index.html
If you have any questions or concerns, please contact Chris Hayes, Middle School Director ([email protected]), Chuck Sennett, Athletic Director ([email protected]), or Mary K. Odio, Administrative Assistant ([email protected]).