As Team Shapes Dynasty, Few Student Fans in Stands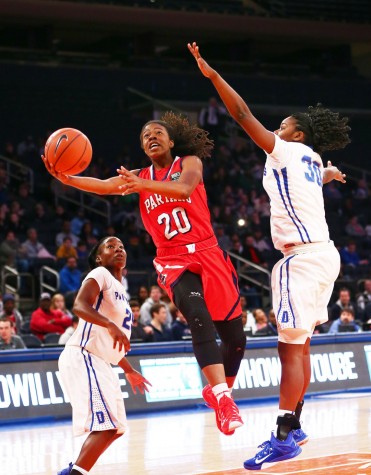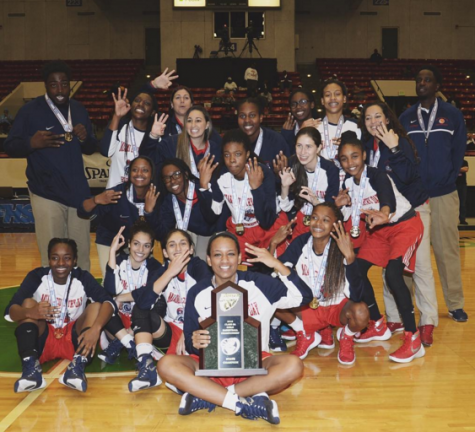 Having a dynasty in sports is something special to watch, something fans are blessed to witness. Some fans will go their whole lives without seeing one. Lucky fans will get to behold their teams dynasty once in their lives, if they are lucky. Chicago fans had it in the '90s, Michael Jordan led the Bulls to six NBA championships in eight years. Pittsburgh fans had it in the 70s with the Steelers, winning four Super Bowls in six years, led by Hall-of-Fame Coach Chuck Noll. One could even say that fans of the Bay Area are witnessing it right now, as Stephen Curry breaks record after record, and leads the Golden State Warriors to be even better than Jordan's Bulls in the 90s. And now Miami Country Day School fans, it is your time to witness a dynasty, as our Girls Varsity Basketball team demolishes its opponents night in, and night out. They returned to the State Championships for the fourth time in a row to annihilate Jacksonville University Christian 76-46 on February 18th, 2016. The girls are the first team in Miami-Dade County history to win three consecutive State Championships, which is also tied for the most championships in the County. Not only are they winning, but they are doing it in stunning fashion. This is what a dynasty looks like.
But next year, we might not be able to witness this greatness firsthand.  Mr. Turf, the head of the Upper School, is faced with a painful decision: will classes be cancelled on the day of a State Final game if the girls' dynasty continues? The low student participation at the final games might put our days of watching the girls succeed in serious jeopardy.
"The decision would have to be made whether to go if they make it to the championship round, which is always exciting," Mr. Turf exclaimed, "However, the student participation this year did not support it, so based upon what happened this year, the chances are questionable whether we would be able to justify cancelling school."
Classes were suspended on Thursday, February 18th, as students were encouraged as they have been for the past three years to get on the fan buses and ride for nearly 4 hours to Lakeland to watch our girls succeed for the third year in a row. But apparently students had better things to do as only 25 students (just under 6% of the Student Body) went to Lakeland this year for the championship game, the lowest of all four trips. "The first year we took four buses, this year we barely filled two, and most of them were adults and family," Mr. Turf explained. On the previous Tuesday, a paltry 4 students went to Lakeland to watch the semifinal game. "We certainly wouldn't go for a semifinal game," Mr. Turf added. "It would be a shame, it's always a great event and we always want to show our support, but there was some negative backlash this year, and we can accept that if a majority or a good number of the student body is there, and that didn't happen this year."
Players on the Girls Varsity Basketball team have expressed some displeasure when asked about the fan situation. "It does bother us that everyone's cheering for us to go to States, but when States comes around, and we are in the game, and we look to the crowd for our fans, and it's only a couple of people, and everyone in the school was cheering for us, and it seems like they're only doing it so they can have a day off of school," Junior forward of the Girls Varsity Basketball team, Dashaun Jackson had to say on the issue. Jackson also suggested the idea that only the students who go to game are exempt from school, which Mr. Turf has discussed with some faculty as a possibility for next year. "It should be like you cannot miss school unless you have an excuse, if not you have to come to the game because everybody's taking advantage of us being able to go to States, and working hard, just so they can have a day off, and that's kind of messed up," Jackson added.
What exactly were students doing instead of supporting the girls who work so hard all year long to be as great as they are? "I had lacrosse practice," said Captain of the Varsity Lacrosse team, Ryan Finvarb. "We had a game the next day, so we had to decide whether or not we were going to skip practice the day before a game, get home late at night, and have to come to school the next morning, and most of the seniors decided we needed to come to practice." Jackson expressed that the her teammates and her were understanding of this conflict Finvarb described. "We understand for other athletic programs. We know they're working hard, trying to get to wherever their major goal is, so we support them putting in the hard work."
But Jackson also added that some students had no excuse for missing the game, and that she and her teammates knew this from social media. "There are students that don't have anything to do, and yet we check on social media, and they're  home partying, or at the beach, and it really does hurt us (players) to know that they don't support us."
One anonymous student said that he was "doing homework" and "sleeping". This anonymous student also said that he and some friends hung out. "We had a little get together with friends and ate pizza." When asked why the student did not go to the game, the student said, "it was too far." Another anonymous student said she was sick. According to these students, they did not attend any parties, but they know of some who did. "I think the senior grade had one," another student said. These students also expressed that they would go if it was the first year that a team made it, but the Girls Basketball team has made it a few times already, and that is why they think that there was a low attendance this year.
This raises the question as to whether or not classes will be suspended if another MCDS sports team makes it to their State Championship game. Mr. Turf says that there is no scenario where classes would be suspended for one sport and not the other, "It's either both or none."
Another negative of this situation was the number of students who were absent from school on Friday, February 19th, the day after the State Championship game. According to Jose Oronoz, Dean of Students, 53 students were absent from school on Friday, which is more than 5 times the usual 10 absent students a day, according to Oronoz. This revealed another problem the school always tries to avoid, students skipping school and taking a 4-day weekend.
If MCDS students want to keep their opportunity to see their team go to the State Championship, they have to change their priorities, or else our days of riding up to Lakeland will just be a memory.