GATEWAY Enters New Turf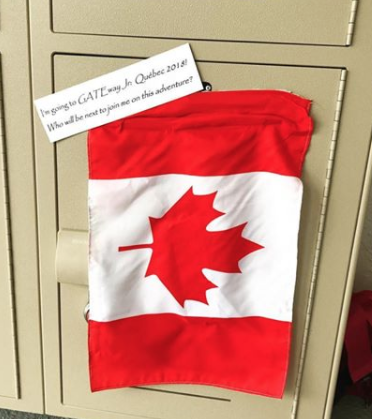 GATEway, or Global Access to Education, is a program that is offered at MCDS that allows the students to broaden their horizons and see and learn about other parts of the world. For the past couple of years, GATEway has consisted of only the summer programs to Nice and Madrid. However, GATEway is now expanding and adding a large variety of additional programs. Glen Turf, in his new position as Director of Global Studies & International Programs, has been hard at work, adding new programs to make sure that everyone, not just upper schoolers, has a chance to participate in a GATEway experience.
"The new position was created to expand GATEway to all divisions. To make sure our global footprint and global studies program was able to reach the little kids as well as the older kids," explains Mr. Turf. Some programs that will be available this upcoming year include study abroad programs, book clubs and language lessons. There is even something fro adults.
GATEway ¡Madrid!, with an optional extension to Lisbon, Portugal and GATEway Alps!, will take place in Geneva and Milan, with an optional extension to Florence and Rome.  Adults will also be able to take part in the new GATEway Discover: Spain! program, a multi-day adult excursion to Madrid and Barcelona. Languages classes are also offered for parents wanting to learn Spanish, French, or join a Spanish speakers' book club, right here on campus. GATEway Junior!, a new Middle School week-long trip, will take middle school students to Quebec during Spring Break. These, along with other options are some of the unique, new programs that have been organized by Mr. Turf in the past year.
According to him, the focus of these trips would be "all the cultural aspects around you with the language woven in. The GATEway Junior program offers a course on culture within another culture. So you're speaking French in an English speaking country with the Queen of England on your money. So what does all that mean?"         
Although all of these programs are very well organized and planned out by Mr. Turf, there can be problems that are simply inevitable. Last year, Minimesters that were planned to travel to Europe had to be cancelled due to terrorism. This upcoming year GATEway Junior! was meant to go to Puerto Rico during Spring Break instead of going to Quebec. However, due to Hurricane Irma, the program is unable to be held in Puerto Rico because of the damage that has been caused. Luckily, according to Mr. Turf, the hurricane occurred just before the Puerto Rico program was going to launch and people were going to enroll, so he was able to stop it and re-plan everything just in time. The trip for Quebec was planned for March 2019 but it was moved to March 2018 to replace the Puerto Rico trip. "I had to quickly do in two days for Quebec what I had worked on two months for Puerto Rico," comments Mr. Turf.
To prevent cancellations as much as possible, Mr. Turf spends a large amount of time, when planning for these trips, making sure that the location is safe and that everything meets the standards. "There are lots of different things that you have to think about in today's world, in terms of keeping everybody safe," explains Mr. Turf, "So I'll be working with both the minimester travel teachers as well as the GATEway teachers about training for safety and risk management."
Included in all of the future GATEway programs, along with a Global Studies Diploma program, which allows a student who has completed two or more GATEway programs throughout high school to get a special diploma at graduation, is a potential service project with Puerto Rico. By the time GATEway makes it to Puerto Rico, many towns will probably still be recovering, and Mr. Turf explains how he'd love to add a humanitarian side to the trip and help out the people in need. However, for now, GATEway has made the commitment to work with schools in Puerto Rico and send over donations. "Once schools are back somewhat up and running we will work with them for supplies to help get them equipped with what they need at the schools. GATEway will take care of the long term need for Puerto Rico and that's not a trip, but that's a humanitarian effort that I think is important for GATEway to be a part of," says Mr. Turf.
Although there have been a few bumps in the road this year, Mr. Turf has been able to handle them and keep the upcoming programs on schedule. From exchange programs to eventually adding in GATEway Asia!, with his new position, he successfully continues to plan for the very exciting future of GATEway.