Ms. Oehlert: Explorer of Languages
An "old soul" with a penchant for travel, Billie Holiday and backpacking deep in the woods, Ms. Lara Oelhert brings a fresh perspective to the World Language department as the new Middle and Upper School French teacher. 
Originally from St. Louis, Oehlert caught the language bug early and has not stopped since. When, at 19, working as an au pair in Leon, France, one night she was startled out of sleep to answer the phone. It was at that moment she realized she had passed a milestone. "I had to answer it and talk in French, [when] I was barely awake. It was the first time I was like, 'Oh my gosh, I can speak French!" She fell for the culture, the food and the language.
Living outside the U.S. for the first time that summer felt so different and so exciting. "I felt like I was living in some kind of video game," Ms. Oehlert said. "I got to observe it all and I loved the food and just the French lifestyle of long meals and talking and you're spending time." 
Before studying French in college, she had also studied German along with a focus on classical studies, taking classes in Ancient Greek and Latin. Additionally, she studied a bit of Arabic. Nowadays, she is learning Spanish with Mr. Turf, a skill that she thinks aids her in her day-to-day interactions with her colleagues and students. Doing translations after graduation seemed to be the way she was planning to go. Everyone "either [wanted] to be a teacher or a translator" in her undergraduate program However, she's glad she didn't take this path, because she thinks that she would have been "bored out of [her] mind sitting on a desk doing translations all day."
She went for a PhD, but found herself not as interested in what the research demanded. "[On] days where I did research all day, I would wake up and feel really sad and I didn't want to do it, but [on] the days I taught, I felt excited. So that's when I realized I liked teaching, a lot." 
 Before landing in Miami, she taught at West Nottingham Academy, a small boarding school in Maryland with only 120 students. Despite its size, what was similar to Country Day was that "it's a very international school." That was a key aspect of our school that captivated Oelhert. When she moved to Miami, she was intrigued by the weather and what our school had to offer.
"I wanted to move to somewhere warm. I fell in love with the school and loved the teachers and students. I was impressed how advanced and how smart the students are, " Ms. Oehlert remarked. Her only reservation about Miami was, "a little silly ": she felt a little saddened by the absence of Fall here.  
"I love being outside camping, backpacking […].being in the forest." She describes being in nature as "the most relaxing thing in the whole world. I try to do a backpacking trip once a year," Oelhert told us.
When it comes to music, Oelhert has the taste of an old soul. "I'm a little bit odd because I have no idea what happens right now in music. There's only like 1 or 2 singers I listen to that make music right now. I do listen to some French music, but the majority of the music I listen to is older music. I love jazz from the '20s, like Ella Fitzgerald and Billie Holiday," Oelhert reveals. Additionally, she enjoys listening to R&B music from the '60s.
As a teacher, Oelhert feels it's key to spend a lot of time getting to know her students. "I like the chit chat before class starts and at the end of class when students are just coming in or getting ready to leave. I think it's kinda fun to find out about their weekends and what they like and to joke around with them." She also uses graded assignments where "they can talk about themselves and what they like and don't like" to create an interactive and personal experience within the classroom. "[When] trying to speak a language, I find that people are more motivated when they can talk about themselves. Who doesn't like talking about themselves?
About the Writer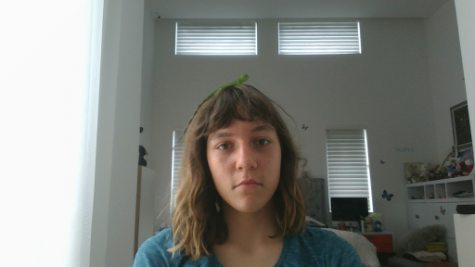 Sofia Vasileva, Staff Reporter
This is Sofia Vasileva's second year as a member of The Spartacus and she is a sophomore of the class of 2023. She hopes to continue discovering new passions...